40 GOAL POLO!!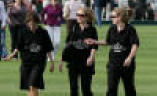 A
40 Goal Match in Aid of Andrew Seavill Benefit Fund
was held on Friday 23 June 2006 at Stedham, Nr Midhurst, W Sussex Photoscience.co.uk was there covering the match, along with 3000 spectators, and all I can say is...it was superb!!
Teams and players:-
Jaeger-Lecoultre (Black shirts, 40 Goal): 1. Adolfo Cambiaso, 2. Nachi Heguy, 3. Gonzalito Pieres, 4. Lolo Castagnola
Coombe Wines (White shirts, 40 Goal): 1. Facundo Pieres, 2. Bautista Heguy, 3. Miguel Novillo-Astrada, 4. Marcos Heguy
Umpires were Memo and Carlos Gracida, of Mexico, who are also 10 Goalers! For those who are wondering about the outcome...the Argentinians won...
Goals:
Chukka 1, Black GP - White BH (pen); Chukka 2, Black 0 - White FP, MH, BH, MH; Chukka 3, Black LC, NH (pen), GP - White BH; Chukka 4, Black NH, AC, LC - White BH (pen) FP; Chukka 5, Black AC, NH - White BH (pen), FP; Chukka 6, Black GP, GP, NH - White FP
Final Score: 12 - 11 (to the Jeager-Lecoultre Team, black shirts).
A DVD (from Blue Tuna TV) is available online through www.hurlinghammedia.com from 15 July 2006 all profits go to the Andrew Seavill Benefit Fund
The Pics...Go to the Gallery or ADSL connectors view the slideshow (pdf)
All images © Duncan Murray /Photoscience.co.uk 2006
There was a social bit too!

All images © Duncan Murray /Photoscience.co.uk 2006