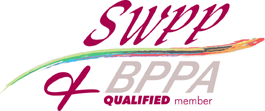 Wedding Photography Information
The more affordable end of wedding photography pricing, important in these tougher financial times, starts at £500 for a Friday or Weekend Wedding, perfect for the smaller ceremony, up to 4 hours attendance (including travel time, or travel time charged additionally to allow for 4 full hours of attendance), includes a pre-wedding meeting, post-shoot image manipulation/creation of B+W versions; 2 DVDs, master and back-up, of original full resolution images; and a Web Gallery (very similar to those displayed in the gallery of 100+ images each). Travel of more than 20 miles is chargeable at 40ppm.
Midweek (Monday to Thursday) 'Registry Office' package @ £300*
Weddings Home Weddings Gallery
For a calm, thorough, patient, insured and highly qualified professional photographer, with the distinction of holding an ABPPA and a B.Sc. (Hons) in Applied Photography and Digital Imaging...so your Wedding Day/Civil Ceremony will be in safe hands; my prices are also based on my commercial rates - not traditionally high Wedding Photography fees.
Please note that if wedding ceremonies are delayed by the actions of other parties and this causes ongoing delays then the photographer has no liability for any subsequent loss/lack of images that
might otherwise have been requested.
Rolls-Royce Wedding Car Service from £175!!
Prices include briefing meeting, all photography and editing work (changing images to black and white and removing unsightly blemishes - for example each 4 hours of shooting images creates 6-8 hours of editing work.) and the creation of slideshows.
I fully appreciate the importance of getting the photography right at weddings - they are a one off. So are the pictures. This is why I use digital imaging through the Canon DSLR technology of the 40D (10.2Mp - back-up camera 8.2Mp) and have a style that is balanced between contemporary, reportage and traditional approaches.

With the full package (£940) I also ensure that no matter the weather the pictures of the bride will be superb as I include photography of the bride on the 'Trial Day' so that the photographs are more relaxed and detail shots/still life images are also possible without a rush or a fuss.

PDF Booking form 2008 Wedding Photography Brochure (pdf) 1.3 MB
In covering civil partnership ceremonies I ensure that I respond to the brief given by the clients in getting the balance right for the partners involved especially as many have had to wait for so long for things to change so that they can demonstrate their commitment to each other.
There is no way to get the same image twice, the same look, the same emotion, the same shot. Customers know their options far better these days and want photographers to respond to this. By using the digital technology I can respond far better to the clients' needs. Selected photographs can be manipulated from colour to black and white, with no degradation of the image. I can provide photomontages, vignette images, soften skin tones and lighting, convert to monochrome and 'hand tint' the whole print or a part of the image back to colour; basically provide any manipulation requested even to producing derivative images and cross-processing effects.
I also take the view of one wedding, civil event, per day - maximum, whether it is midweek or on the weekend - simply because of concentrating on that couple's day - I don't think it would be either professional or fair otherwise. I also encourage couples to spend time, giving a clear briefing before the wedding, to ensure that the images and style are properly planned and understood. I keep testimonials from my past clients, which prospective clients are welcome to see; however under the terms of the Data Protection Act I cannot give out former clients contact details for references.
The Professional Wedding Photography Service I provide is tailored to the clients needs and with regard to having to order lots of expensive extra prints - you don't have to, as I give my clients 2 DVDs with full resolution images (one to use and one to archive for safety - or the negatives if taken on film) so that you can email out images to distant family and friends and I assign reproduction rights so that you can produce your own reprints - most photographers will charge you about £300 for this licence!
My price for a full Professional Wedding Photography Service is around £940.000 - which covers the two and a half days I will spend on your wedding images - includes 'Trial Day' photoshoot of Bridal beauty pictures (and NO - the Groom-To-Be will not see any of them) - they ensure that these all important shots are 'in-the-can' in case time doesn't allow/the weather!!), image manipulation/retouching, a proof CDROM, the final CDROMS, a full resolution image webpage of up to 30 downloadable images (5"x7" print size) which are not accessible to the general public as they are on unadvertised links which are emailed directly to customers and a 'PDF slide show' .
Of course if asked I will provide high quality prints, stretched canvas prints, construct a more traditional album or create/design photo-books at a reasonable cost - please ask for prices/sizes
To find out about availability and prices please use the Webmail form below or call me on 01489 787312 or mobile 07989 343802. I am insured.
Weddings Home Weddings Gallery
Rolls-Royce Wedding Car Service from £175!!
* 'Registry Office Only' service is available from Monday to Thursday only, for up to 1½ hours of attendance at the following Registry Offices (Bishops Waltham, Winchester, Eastleigh, Fareham, Portsmouth and Southampton - includes small weddings in a single venue i.e. hotels) with the total fee payable in advance and the product delivered is 1 CDROM, of up to 20 original images (photographer's choices) and a pdf slideshow.[Back to top]
To Contact me please use the form below
Don't forget the date and location of your wedding!
Webmail enquiry form
Photoscience, Wedding Photography, wedding photographer, Wedding Photographers, Civil Partnerships, Mid-week weddings, Photobooks, Reportage Photography, Wedding Books, in Hampshire, Dorset, Sussex, Surrey, Southampton, Portsmouth, Winchester, Wedding photography in Southampton, Wedding Photography in Portsmouth, Eastleigh, Locks Heath, Park Gate, Warsash, Hamble, West Meon, East Meon, Bishops Waltham, Wickham, Fareham, Stubbington, Titchfield, Funtley, Whiteley, Botley, Hedge End